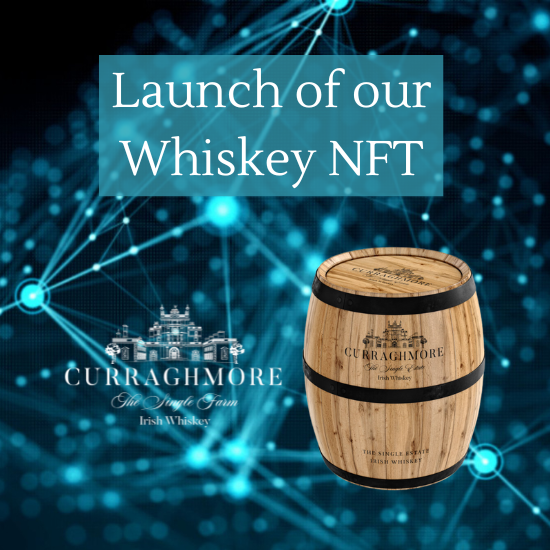 Launch of our Whiskey NFT Project
Innovation and authenticity are at the heart of everything we do here at Curraghmore, and so it's with great excitement (***drumroll please….***) that we announce the launch of our NFT project.
We believe that NFTs are the way of the future, particularly for whiskey investment, and we're proud to be one of the first whiskey brands to pioneer this technology and launch this to market. We believe blockchain technology offers a streamlined, simple way to purchase and keep track of whiskey casks. NFTs and the blockchain will help connect the user and the producer directly through a touch of a button. No need for tedious contracts and paperwork as this is all legally binding within the digital contract of the NFT. For these reasons, we have decided to launch our own NFT project and look to the future.
Here at Curraghmore Whiskey, we are committed to crafting single farm pot still Irish whiskey, with the ultimate goal of becoming carbon neutral and 100% organic by 2032. Launching an NFT project aligns with this vision, both in terms of environmental impact and innovation in the market. Blockchain technology offers a new way to ensure transparency and credibility to our investors while offering a secure, streamlined path to purchase.
For the uninitiated, NFT stands for 'Non-Fungible Token',  which is a unique digital identifier that cannot be copied, substituted, or subdivided, that is recorded in a blockchain, and that is used to certify authenticity and ownership. NFTs, therefore, are an excellent option for anyone considering purchasing cask whiskey, as in whiskey investment, proof of provenance is key to the integrity of the asset. NFTs offer a safe and easy way to collect and manage purchases, on a truly international scale.
We have partnered with Momint,  the alternate investment platform of the future. Momint offers users a safe and easy-to-use NFT marketplace, with a wide range of collectables for sale. Verified Momint NFTs have been extensively vetted by 3rd party auditors, with real legal contracts embedded into the token, kept safe and secure on the blockchain. This provides Legally Binding mechanisms for ownership and dispute resolution, enforceable in over 160 jurisdictions around the world.
For this project, we selected one of our younger casks, a 2.5-year-old, ex-Bourbon 200-litre cask. We have fractionalised this cask into 10 x NFTs. Once you 'collect' or purchase one of these NFTs, you automatically become a Curraghmore Legacy Cask Member.
As a Legacy Cask Member, you will have access to a range of benefits and activities here at Curraghmore, including Ten Stalls – a unique private whiskey lounge available to you for private tasting sessions. Take your seat at the grand table, crafted from a giant oak that fell here at Curraghmore estate, and savour a range of whiskeys, including, of course, your own.
At the end of the project, which is linked to the Casks maturation date at 15 years of age, NFT owners are entitled to their share of 18 bottles of the cask's Whiskey, to do with as they please. The NFT can be sold on at a price the holder sees fit, with its utilities, at any point in the project's timeline.
This NFT project offers interested parties a lower threshold of investment, with a secure and straightforward path to purchase.
More information on our NFT project can be found here: https://app.momint.so/project/63205c06e69ade0fce574e12
To find out more about our Legacy Cask Membership, click here